Course Highlights
Complete Foundations of DSLR Photography covering Camera/ Lens variations, Aperture , Shutter, ISO, White Balance , Color Space, Shutter, Histogram, Depth Of field , etc
After each topic participants will get hands on experience step by step, Emphasis to cover all fields of photography like Macro, Portraits, landscape, Indoor etc
Hands on Understanding Exposure Triangle and Depth of field
Hands on with Patient/Participants for complete protocols of Dental Photography
Lab Communication with Dental Photography
Hands on Creativity with Macro lens and Twin Flash system
Hands on Basics of Learning Photoshop/ Processing of photos
Documentation Protocols
What's App Group for the course participants for stimulated discussions on Photography and quick Mentor guidance post the workshop
Schedule will be: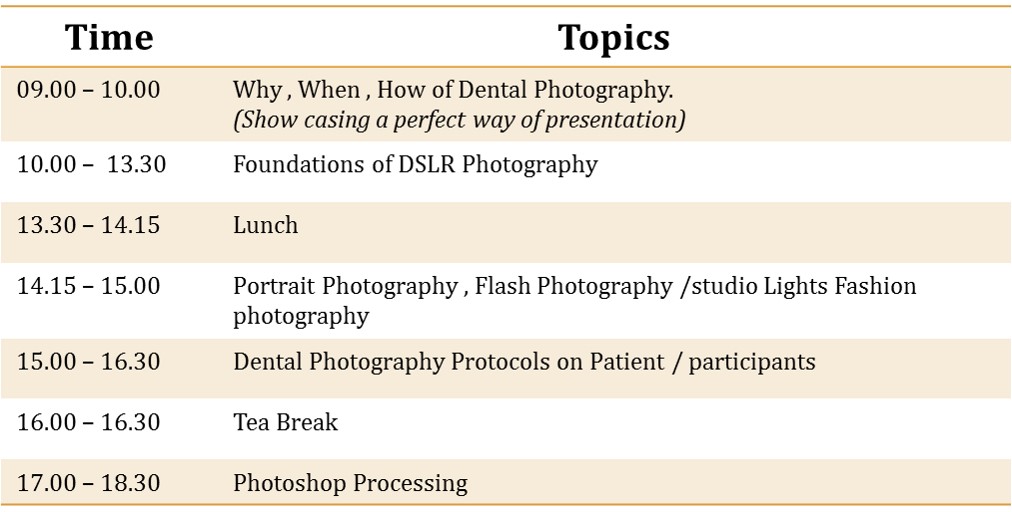 Work shop Benefits
Digital drive with essential tools to enhance Dental Photos in PowerPoint format with training videos & Photoshop processing exercise videos
Special Gift - The most important Golden proportion Ruler for smile design
Privilege to join under Mentors guidance for half day outdoor Macro shoot
Hands on with Patient/Participants for complete protocols of Dental Photography
Special discount on MRP on all Canon DSLR , Lenses and Flashes
Special discount on Twin Flash bracket
Hands on Basics of Learning Photoshop/ Processing of photos
Each Participant will get chance to handle world top class photography gear.
Work Shop Essentials ( participant to carry )
DSLR with any lens.
Laptop with Photoshop C5 or latest version installed.
Register for the next course.
Here are the details:
Venue:
Register now