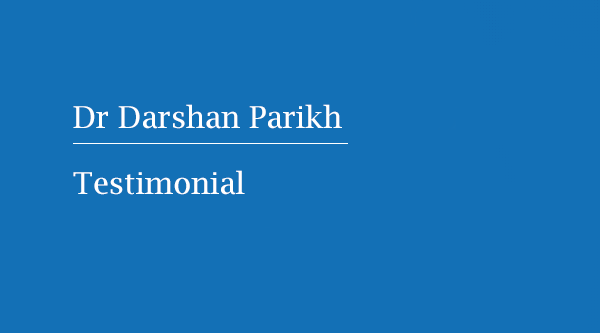 Testimonial- Dr Darshan Parikh
Testimonial- Dr Darshan Parikh
Greetings!
This has been long overdue. In all honesty at the end of each course with the handouts I would think that I need to put my thoughts down. Not just write the run-of-the-mill "thank you" "great content" "learnt a lot" "amazing slides etc." blandishments. After the first course, I was a little guarded and not very sure how all that I had learnt would really benefit me. Surprisingly, I had an epiphany last night, and could only do so much to restrain myself from shooting off a mail to both of you at 3am! At a more sedate pace and moment – here goes:
I had first come across a flyer about "impart" years ago. I thought to myself "I'm still not doing implants" "how does Implants-Aesthetics-Rehabilitation tie up?" and left it at that. In due course (pun intended) I would come face to face with the "seated and standing" picture profiled duo.
I first attended a course by Impart for the Full Mouth Rehabilitation 3-day workshop three years ago. A colleague signed up and I joined on a lark. I left with plenty of doubts and concepts clarified (or so I thought!) I got to handle a face bow. Wow! Over the following months though, the awareness continually gnawed at me that this course was NOT good for me. To put it simply, I had no clue what I was getting into. That was the first mistake. I made many more in the years to come!
I went on to attend the Implant foundation and advanced prosthodontics courses! A fool and his money are soon parted they say.
Every course I lost money. On new equipment. On new materials. On things without which a lot of what I learnt I wouldn't be able to put into practice otherwise. Sometimes it meant spending a few hundred thousand. Sometimes it was for something as insignificant as an innocuous 100micron articulating paper. This has happened. Every. Single. Time.
The faculty would not mince words if I had questions. With my first photographs. With treatment planning. I knew I had 'short 'comings as a clinician. At impart they seemed so glaring it literally left me feeling dwarfed. I have just one more course to go with Impart's portfolio and I will (as Dr. Udatta puts it) be "complete". In my opinion I will be "finished"!
I wish more than all the other stuff; they simply teach me the photography to make my work look as good. Perhaps the white background from Dr. Udatta would help, or the way the ceramic work is made to look so perfect from Dr. Ali. There has to be a Photoshop like "hack". Some shortcut they should show… it will make life easier.
In summary I am so glad there is only so much they teach and only so many courses they hold.
On the flipside:
I had saved the flyer thinking everyone seems to be doing implants. Should I? How good can this be? Another 2 dudes teaching this topic. What is Implant aesthetics anyway?
For the FMR I think I was there more as a designated driver. I thought I had learnt a lot, but over the past few years I have realized that I still need to get a handle on the subject. It took more than a year to get my first case. I struggled through it and before / after with other similar cases. All the same it was definitely an eye-opener that there is a lot left to learn and a lot more to improve on many levels and at all aspects of clinical dentistry.
On a personal level my father would often quote Robert Frost's lines "I have miles to go before I sleep" (they were on JFK's desk he told me) and in his last few months he also shared with me, that the best investment I could make, would be in myself. In his book not everything was a measure of one's bank balance.
To that end learning with both of you has been a definite plus. I know I have fallen short of expectations often, but a nod of approval from either of you means I am on the right path.
Thank you for making yourselves available, for offering your feedback and criticism. I value your opinion more than words can express and I hope that I can continue to depend upon your combined mentorship. I know if I can execute cases flawlessly and have you say "good job" "well done" I am getting somewhere.
I definitely want to be the "complete" and "finished" product!
In summary I am well and truly glad there are only so many courses!
I would have to keep coming back for more.
Warm Regards!
Dr Darshan Parikh
( Impart Course Participant)